Quick Tip for Improving Your Computer's Performance
Over time, we install a lot of software applications on our computers and many of these applications are specifically coded to automatically start after every reboot and run silently in the background. They consume a lot of system resources and can affect our computers' performance over time.
In this video, Krystal Son, Escalation Team Lead at Kite Technology shows you how to see which software applications are configured to run in the background and how to disable them from starting unless you specifically want to open the application. By taking a few minutes to look over the list and turn some of them off, you can squeeze more performance out of your computer.
Here are the steps for disabling applications from running in the background:

On your computer, you're going to right click the Windows Start Button and select Task Manager.
Once this window pops up, make sure you select the Startup Tab.
Here is where you can see all the applications on your computer that are configured to automatically restart and run in the background every time your computer is rebooted.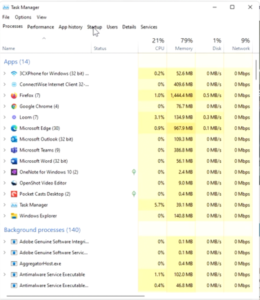 So, you can look through the list and turn off any that you don't need to automatically run in the background. This is not disabling them or uninstalling them from your system. It's just telling it don't run in the background unless I specifically call on you to open.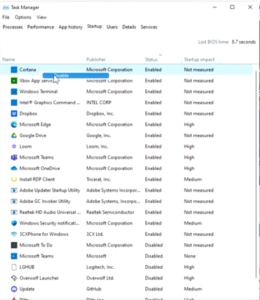 For example, if I turn off Adobe, it doesn't mean that I'm uninstalling the application. I can still click on Adobe and look at PDFs anytime I want. It just means that Adobe is not going to be running in the background and consuming resources from my computer.
One important thing to note is that any file-syncing services like Dropbox, Google Drive, OneDrive – you want to make sure you keep those on because you want your files to always be saved and uploaded to the cloud.
Additionally, if you work in an insurance agency and you see anything listed here called ASI. whatever it is, make sure you keep that enabled. Those are specific services for Applied Epic and TAM to run successfully.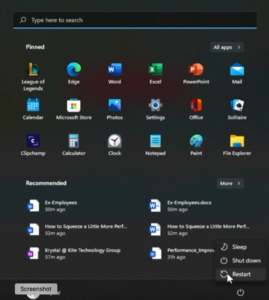 Once you've gone through your list and cleaned that up, all you need to do to make those changes take effect is reboot your computer. Just go back down to the Start Button, select the Power Button and Restart. That's it!
We hope you found this tip helpful! If you're a KiteTech client and would like some help with this, please contact our Help Desk and one of our technicians can assist you.
If you're not currently working with KiteTech and would like to learn more about our Managed IT or Consulting Services, please reach out and we'd be happy to schedule a conversation to learn more about your technology needs.