How Microsoft Forms Can Simplify Data Collection for your Business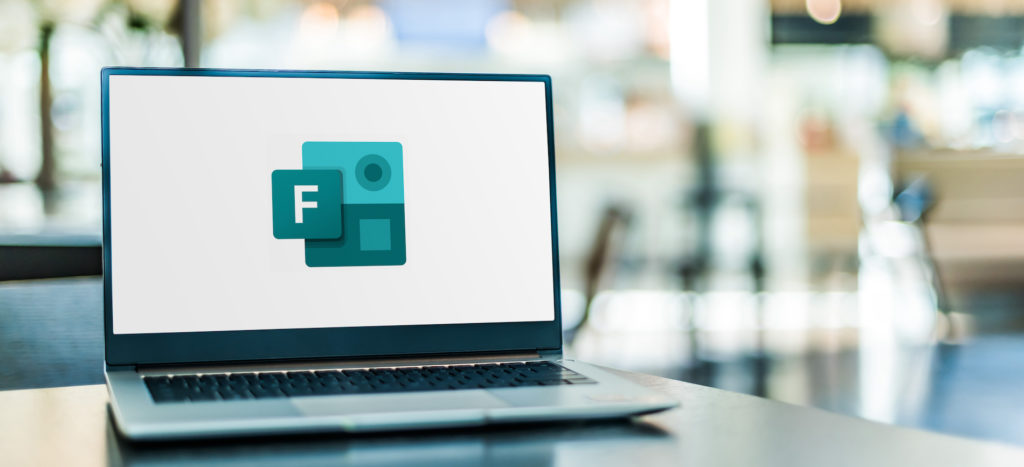 Microsoft Forms is an app included with your Microsoft 365 subscription that gives users the ability to collect information from their customers or employees. Microsoft Forms can be accessed through a web browser or the Microsoft Forms app. Whether you want to create surveys, quizzes, polls, or feedback forms, Microsoft Forms provides a user-friendly platform to easily design and distribute custom surveys, and analyze the data you collect. In this blog post, we'll explain how to create a custom form and share ideas for how you can use Microsoft forms in your business.
Getting Started with Microsoft Forms
Creating a Custom Form
One of the best things about Microsoft Forms is its flexibility in customizing forms to suit specific business needs. You can choose from different types of questions, such as multiple-choice, rating scales, or open-ended questions, and add images or videos to make the form more engaging. Additionally, you can customize the theme, color scheme, and font style to match your brand identity. With the drag-and-drop interface, you can easily rearrange questions or sections, add branching logic, or set up conditional formatting. Once you have created a form, you can share it via email, social media, or QR code, or embed it on your website or intranet.
Collecting Responses
Microsoft Forms makes it easy to collect and manage responses from your audience. You can track the number of responses, view the average score, or export the data to Excel for further analysis. If you want to limit the number of responses, you can set up a deadline or password-protect the form. Moreover, you can enable notifications to receive an email or mobile alert when someone submits a response. You can also send automatic thank-you messages or redirect respondents to a custom URL after completing the form.
Analyzing the data
Microsoft Forms provides powerful tools to analyze and visualize data in real-time. You can use the built-in charts and graphs to see trends, patterns, or correlations in the responses. For instance, you can create a bar chart to compare the frequency of different responses, or a pie chart to show the distribution of responses by category. Additionally, you can filter, sort, or group the responses based on certain criteria, such as demographics, preferences, or feedback. You can also share the results with your team or stakeholders by exporting the data to PowerPoint or Word.
Microsoft Forms Use Cases
Here are some examples of how you can use Microsoft Forms in your business today:
Collect customer feedback: Use Microsoft Forms to gather customer feedback on your products or services. Create a survey form to ask customers about their satisfaction levels, preferences, or pain points. This data can help you improve your offerings and customer experience.
Manage event registrations: Use Microsoft Forms to create registration forms for events, such as conferences, webinars, or workshops. This data can help you manage attendance and track preferences, such as dietary requirements or special requests.
Track inventory or assets: Use Microsoft Forms to track inventory or assets, such as equipment, tools, or supplies. Create a form to collect information on the location, condition, or maintenance schedule of your assets. This data can help you optimize your inventory management and reduce costs.
Conduct market research: Use Microsoft Forms to conduct market research and gather data on industry trends, competitor analysis, or customer behavior. Create a survey form to ask targeted questions and analyze the data to gain insights into your market.
Gather employee feedback: Use Microsoft Forms to gather employee feedback on workplace culture, job satisfaction, or training programs. This data can help you create a better work environment and retain your employees.
Conduct product testing: Use Microsoft Forms to conduct product testing and gather feedback on new products or features. Create a form to ask beta testers for their opinions on usability, functionality, or design. This data can help you refine your products and launch with confidence.
Manage customer service inquiries: Use Microsoft Forms to manage customer service inquiries and track response times or customer satisfaction levels. Create a form to collect customer details and their inquiries, and set up automatic notifications to respond promptly.
Gather leads: Use Microsoft Forms to gather leads for your business, such as email addresses, phone numbers, or other contact information. Create a form to offer a free download or a discount in exchange for the contact information, and use this data to build your email list or CRM.
Conclusion
Microsoft Forms can be used in a variety of ways to improve business operations, from gathering customer feedback and conducting employee evaluations to managing event registrations and inventory. With Microsoft Forms, businesses can collect and analyze data to gain valuable insights and make informed decisions that drive growth and success.
The team here at Kite Technology loves to help our clients leverage tools like Microsoft 365 to enhance their business operations and productivity. Our IT and Consulting Services can help you streamline your operations and optimize your IT infrastructure, so you can focus on what matters most: growing your business. Contact us today and discover how we can help take your business to the next level.