Enhance Document Collaboration with Microsoft's Share and Comments Features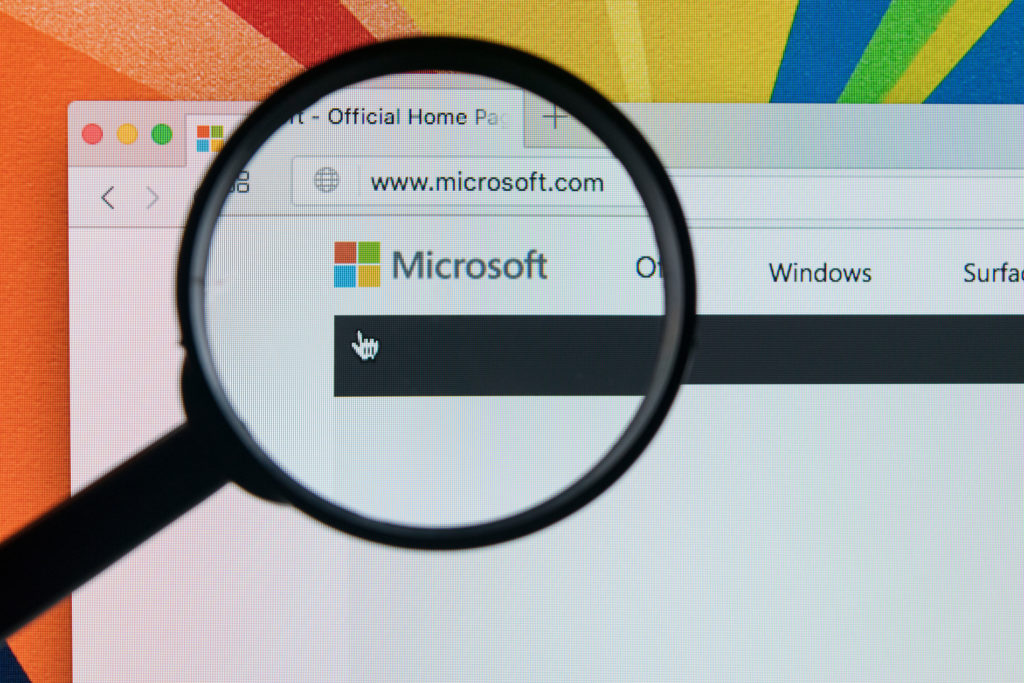 Need to quickly share a spreadsheet with a colleague? Did you notice a typo in that important document about to be shared with clients? How about sending that PowerPoint directly to everyone in the meeting so they can follow along with you? Today, we will be looking at Microsoft's Share and Comments features that are present in their 365 apps like Word, PowerPoint, and Excel. These features allow you to quickly and easily collaborate with others in your organization.
Sharing Files with the 'Share' Feature.

On the top right of any Microsoft application you open, you will be able to see a button that says 'Share'. By learning how to utilize this feature you can quickly give others in your organization access to important files. Clicking the button brings up the Share menu.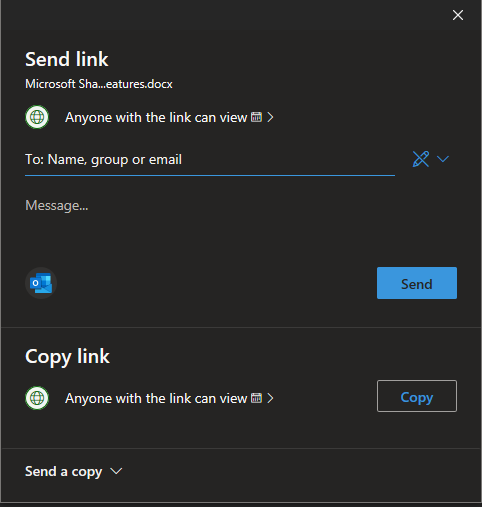 You will be able to email an access link directly to a colleague and accompany it with a message or create a link that you can share in your organization via Teams or any other messaging software.
By clicking on the globe icon directly above the 'Message' field, you will be given several options for sharing: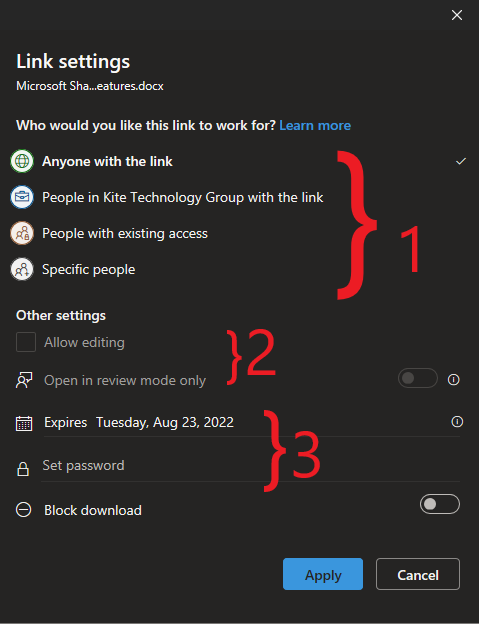 You can select who you would like to share the file with:

'Anyone with the link' will generate a shareable link with you that you can share with anyone who has the same Microsoft application. This may be useful for quickly sharing information with clients or others outside of your organization. You can also set an access password for added security. Please Note: this will be a temporary link; it will expire after a set amount of time determined by your organization. You can modify this timeframe by clicking the calendar icon (3).
'People in Organization with the link' will generate a link specifically for others in your organization. This link will never expire.
'People with existing access' will generate a link for those who you are already sharing the file with. This is useful if someone loses the original link or forgets how to access the file.
Finally, 'Specific people' will share the file only with the people specified. They must have the email that you set to be able to access the file. This is useful if you have a confidential file that only certain members of your organization should have access to.

The 'Allow editing' and 'Open in review mode only' options allow you to determine if the other members that you share the file with should be able to make changes. 'Open in review mode only' will only let them open the file in review mode where they can make comments and suggestions, but never changes. 'Allow editing' determines whether the member can make changes to the file.
Finally, the 'Block download' button will prevent others from downloading a copy of the file for their personal use.
Another helpful feature of sharing is the 'Comment' and 'Review' functions. These allow you to quickly interact and collaborate with others on your file.
Review Feature

The 'Review' function allows you to quickly and easily suggest changes or edits to others. Once someone else makes a suggestion on your document, the suggested change will show up to you in red.

From here, you can click on the red text to either accept or deny the change.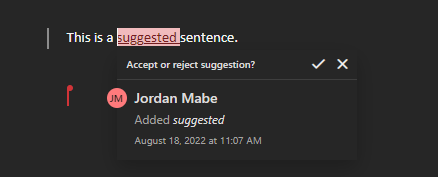 If you choose to share the file in review mode only, this will be the only option collaborators have to make or suggest changes.
Comment Feature
Making a comment on a file is just as easy; simply highlight the portion that you wish to make a comment on and click 'New Comment'.

This will allow you to type out a comment that other collaborators on the file or document will be able to see.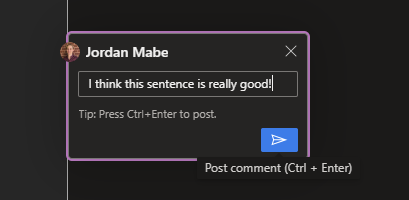 Once a comment is posted, it will always show up in the comments field and there will be a symbol where the comment is placed.

You can also mention specific people in your comment using the @ sign or reply directly to comments made. You can even give the comment a thumbs up if you would like!
Conclusion
Microsoft's 365 applications' Share and Comments features are a great way to quickly and easily collaborate with others in and outside of your organization. If you are a KiteTech client and require any help with these features, or have further questions about sharing options, don't hesitate to contact our Help Desk for further assistance.
If you are curious about Kite Technology and want more information on our Managed IT and Consulting Services, please contact us to schedule a conversation. We'd love the opportunity to learn more about your organization and see how we can help!