An independent insurance agency using Applied Epic and located in York, Pennsylvania has been working with Kite Technology Group for Managed IT Services since January 2002. Kite Technology ongoing IT Management and technical support. 
Project Details
The Client
Introduce your business and what you do there.
I'm one of two owners of a full-service independent insurance agency in York, Pennsylvania.
The Challenge
What challenge were you trying to address with Kite
Technology Group?
We needed a Managed IT Service provider to handle all of our IT needs.
The Approach
What was the scope of their involvement?
Kite Technology Group has provided on- and off-site IT services since January 2002. Over the years, they've purchased hardware and software solutions to improve our IT infrastructure. Kite Technology Group's team has helped us implement Microsoft Teams into our phone system.  When necessary, Kite Technology Group comes on-site to execute projects. I'd estimate that they come into our office three times a year. 
How did you come to work with Kite Technology Group?
We've been working with Kite Technology Group for quite some time, so I'm not sure how the relationship started because I wasn't with the company at the start of the partnership. However, I believe they had a relationship with the previous owner. I assume their geographical location and existence as one of the few insurance-based IT companies on the market influenced the decision to hire them.
What is the status of this engagement? 
We started working together in January 2002 and the engagement is ongoing. 
The Outcome 
What evidence can you share that demonstrates the impact of the engagement?  
Since Kite Technology Group provides us with weekly and monthly reports on the type and quantity of service calls and solutions they provide, I can report that all of those metrics are very good. The entire relationship with them has been fantastic. We trust them completely when it comes to IT management. 
How did Kite Technology Group perform from a project management standpoint? 
Their team has excellent project management. They use an emailbased management tool to create and track service tickets. From that management portal, their teammates can respond to our service tickets. We communicate with them through phone calls. 
What did you find most impressive about them? 
We trust Kite Technology Group. Their team is responsive to our needs and understands that we're in a time-sensitive industry and do their best to respond to us promptly and efficiently. 
Are there any areas they could improve? 
There is nothing for them to improve.
Do you have any advice for potential customers?
It's important to give Kite Technology Group the time to learn about your business — meet with them and give them the opportunity to win your business. 
Summary of Project Feedback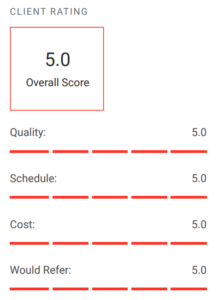 "The entire relationship with them has been fantastic. We trust them completely when it comes to IT management."
 To check out the live review on Clutch click here. If you are currently working with Kite Technology and would like to leave a review on Clutch, please click here.
Interested in Learning if Kite Technology is the Right IT Partner for Your Business?
We would love the opportunity to meet with you and learn more about your organization's objectives and goals. To schedule a conversation, please contact us and a member of our team will reach out to you.