A Guide for Selecting Your Next Cell Phone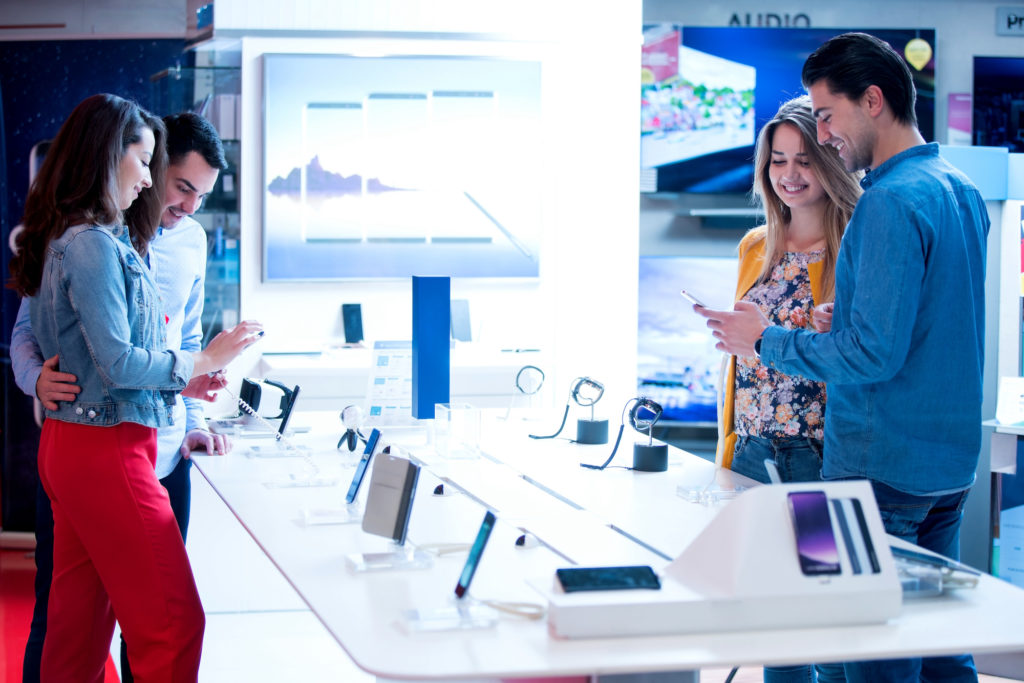 With the wide variety of phones on the market today and new ones coming out every year, it can be challenging to choose the right phone for you. They all boast the best specifications, the longest battery life, or the fastest speeds. All this information can be overwhelming, making it challenging to know the best option. Considering today's cell phones average about $1000 and most people use their phones for business and personal purposes, it is essential that we make our investments count.
So, what should you look for in your next phone? What qualities are important to consider? In today's article, I will review some of the most common features and specifications to consider before purchasing your next phone. I will also be discussing how three of the most popular phones on the market today: the iPhone, the Samsung Galaxy (S Series), and the Google Pixel compare when it comes to these various features.
An operating system, or OS, is how the software interacts with the phone's hardware. The two main ones that exist today are iOS and Android (an open-source Google OS). Because Android is open-source, meaning the information is publicly available, the experience you get across different phone providers using the same OS may differ as they may customize it for their hardware. This means that features may vary across devices. A good example of this is Samsung, which has customized features, like the Messages app. If you are messaging other Samsung users, the messages will be able to send over Wi-Fi instead of cellular, and you will be able to see when the messages were read. This is a Samsung exclusive feature for the Messaging app, despite using the Android OS. Android generally offers more customization to its users, while iOS favors consistency over customization.
As far as considering the Operating System when selecting your next phone, it is best to stick with what you are familiar with, especially if you are not tech-savvy. Switching to a different OS can cause a great deal of frustration when learning the ropes.
This refers to how much data the phone can hold, usually between 64 Gigabytes (GB) and 1 Terabyte (TB). There are two types of storage in modern phones, local storage and cloud storage. Local storage uses the space on the device to store data. This data is not backed up anywhere, so it is accessible only from that device, and if something happens to the phone, the data is gone forever. Data will need to be manually backed up to another device, such as a laptop. Cloud storage, however, lives on remote servers managed by the cloud provider and is accessible via the internet. This means that the data is available on any device that can access the web, and it is also backed up to the cloud. This is generally done via a paid subscription, though some services, like Google Cloud, offer a free option.
Deciding what type of storage you want to use will affect how much local storage you need on your phone. Apple has iCloud that automatically backs up the important data on your phone. Samsung has a similar service, as well as Google.
Both iPhones and Androids have about the same capacities available for their phones. They both also offer cloud services for a paid subscription. iCloud for iPhones has a 5GB free storage and then a paid subscription, while every Google account has a free 15GB free account, upgradeable to Google One, which can hold 100GB or more of data depending on which plan you choose.
When comparing camera quality across cell phones, it is important to understand the specifications used to describe them.
MP – stands for Megapixels, and one megapixel is equal to 1 million pixels. The more pixels you have in an image, the more information a picture can capture, generally leading to more detailed photos. The standard for good phone cameras now is 12 MP. 
Number of lenses – Most modern phones have two or three lenses on the camera for a more detailed image that relays the depth of an image or detects certain things better, such as recognizing faces or particular objects within an image. Today, most phone cameras also allow for things like text and QR codes to be scanned and copied by simply taking a picture of them.
Compression – For mobile devices, uploading images to certain websites, such as social media, will cause the image to be compressed to fit the file size requirement for images on that site. Instagram is the perfect example of this. In general, iPhone images are better at compressing while maintaining image quality than other phones' images. This is likely due to using a different file type than other phones. Other phones can take pictures of similar or better quality; they may just not compress as well.
iPhone 12 Pro and 13 Pro, the latest Samsung flagships (Galaxy S21, Note 20), and the Google Pixel 6 Pro are pretty equal when it comes to camera quality. However, the features offered natively differ, such as filters and photo correction. iPhone again takes it when it comes to compression, though this is not a hard and fast rule.
Water Resistance – Many phones boast IP68 Water resistance, meaning a phone is fit to withstand dust and debris. This does NOT mean the phone is waterproof. In optimal conditions, the phone is resistant to being submerged in water (primarily freshwater) over 3 feet deep for up to 30 minutes before being damaged.
When purchasing phones for your family or business, collaboration is vital, and some phones are better when communicating between two of the same. In this regard, iPhones are unmatched for integration between all the Apple ecosystems, including the phones, tablets, Macs, and even smartwatches. The data you have on one device is accessible on all these devices, including text messages and emails, making it convenient to access important and time-sensitive data anywhere you may find yourself. Even in places with little to no cell service, iMessage (available ONLY in Apple-to-Apple communication) allows you to send messages provided you have a Wi-Fi connection. This isn't natively available on Android phones as all messages are sent using SMS over the cellular network. iPhone is also better when it comes to group messages. On the other hand, Androids require them to be downloaded using your cellular data, even when connected to Wi-Fi. This means that if you are in an area with Wi-Fi and no cell service, you will not receive any text messages. 
Another collaboration feature that iPhone has is AirDrop, so rather than having to send a text or an email with a picture or file, it can be sent to phones that are physically close to each other. Because there are so many different flavors of Android depending on the manufacturer, there is not one collaboration service that is native across all of them. A way around this is using WhatsApp, which gives you access to many of the collaboration features of iMessage but requires a separate account.
In today's virtual world, it is essential to consider security features when selecting any device that stores data, such as a cell phone. Most security features are available through the online services we use, such as MFA (Multi Factor Authentication) or 2FA (Two-Factor Authentication), which uses a secondary authentication method to confirm that it is indeed you who is trying to access your accounts. Some phones come with features where if the phone gets misplaced or stolen, they can track down the phone or even erase it remotely, so the data is not compromised. Some phones also have a feature that limits access to certain apps with sensitive data using the Face ID, Fingerprint, or passcode to the phone.
This feature is especially important for companies that deal with sensitive data, such as insurance agencies. Especially if you have cybersecurity compliance regulations that you must adhere to, it is essential to consider what personal mobile devices, if any, you will allow your employees to use for accessing company data.
Regardless of the phone, it is also vital to ensure that any files downloaded are from trustworthy sources and all apps are downloaded ONLY from the respective app stores.
iPhones have many features locking down the download of certain files from web browsers, installing apps from anywhere other than the app store, external access to the phone (wireless and USB), and even locating/erasing the phone if lost or stolen. This comes at the cost of customization, as you are very limited in what you can do to customize security features on the phone, such as the lock screen. iPhones also do not have fingerprint sensors, so you must use Face ID if you want to use anything other than a 6-digit pin.
On the other hand, Androids offer more customization depending on which phone you get. The modern Samsung flagships offer Face ID, fingerprints, pins, and patterns to unlock the phone. The Google Pixel 6 also has a fingerprint reader but does not feature Face ID as of the writing of this article. 
Each of the phones mentioned should last for at least two years without any significant issues in performance or quality, though the battery life will degrade over time. Most cell phones offer features that help improve the battery life even further, offering different performance modes to extend the battery life or improve performance. 
Apple phones generally last longer as their older phones can update to the newer versions of iOS for longer, though the performance takes a serious dive after 3-4 years. The tradeoff is that iPhones are expensive, even if you purchase one generation behind the newest. The iPhone 12 starts at $800, with only 64 GB of storage, and the camera isn't as good. The iPhone 13 starts at $800 as well, again with only 64 GB of storage and worse camera quality.
The Samsung Galaxy S series can also last a good bit of time. I still have my Galaxy S10+, and it performs well, despite being almost three years old. The Galaxy S21 starts at $300 if you trade in an eligible phone or $800 with no trade-in. They also offer bulk prices for those purchasing for a company. The Google Pixel 6 is the most cost-effective on this list, starting at $600 for the base model and $900 for the Pro.
There are many other phones on the market worth considering, such as LG's flagships and the OnePlus series of phones. Though not discussed in this article, the information provided should help you know what to look for in your next cell phone purchase.
Purchasing your Next Cell Phone
Taking the time to become familiar with common technical terms and features is essential to making an informed decision when you purchase your next cell phone. Equally important is to ensure that the phone you purchase has the features that meet your particular needs. For instance, someone who plans to use their phone primarily for personal communication will not have the same requirements as someone who wants to use their phone for professional photography. Additionally, if you plan on using your phone for business or work purposes, you will want to strongly consider security features.
I hope the information shared in this article will be valuable in helping you make the right decision on your next cell phone purchase. If you are a business leader and would like to learn more about mobile devices suitable for your company or are interested in how our Managed IT and Consulting Services can benefit your organization, please don't hesitate to reach out. We are here to help!