4 Must-Haves for Your Home Office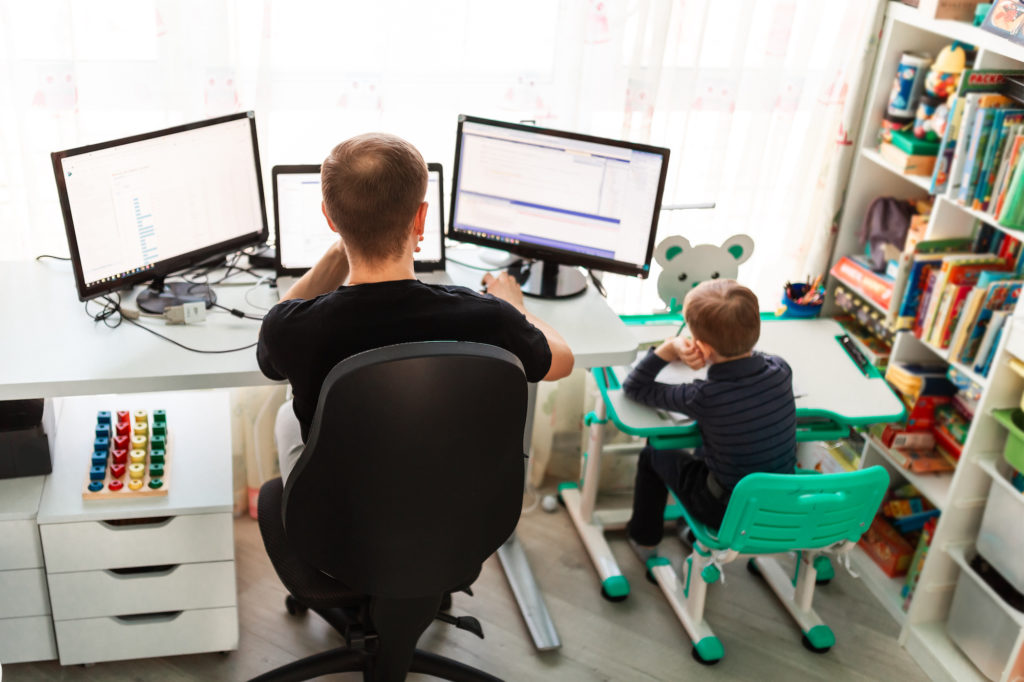 Like many of us here at Kite Technology, you likely spend some time working from home and/or have at least several employees working remotely. We have found that having the right home office equipment can make all the difference in empowering users to have a better experience and be more productive when working from home. In this post, we share some of the tools that can enhance the work-from-home experience.
The first item on this home office list is a high-quality webcam. This simple technology is affordable and easy to use, but it can completely transform your virtual meetings. All team members can benefit immediately from a dedicated camera for their home office setup. Microsoft Teams, Zoom, and countless other platforms can use the video input to better connect team members at home during internal calls, significantly increasing the sense of togetherness for a geographically dispersed team. Additionally, using video in meetings with clients or prospects goes a long way in building trust and allows you to pick up on body language you would otherwise miss in a call. Although virtual video meetings are not a replacement for in-person meetings, they certainly are more efficient and a great option to consider when unable to meet in person!
Pricing for webcams varies significantly, but purchasing a better, high-quality webcam is worth the investment as it gets you a higher-quality video recording. Most models are USB-based webcams that will be plug and play with any desktop or laptop workstation. One key point to note is while most laptops do come with basic built-in cameras, the video quality is usually grainy and will not be nearly as good compared to dedicated webcam hardware. In addition, webcam hardware comes with basic built-in microphones to pick up your voice. Depending on the model, some even come with a feature that reduces background noise.
Look for an HD webcam that will record in 1080p resolution inside today's video meeting tools as a starting point for best results. Some webcams do record in higher resolution, but they will not necessarily provide much of a picture improvement. The other key specification to pay attention to is the video frame rate. Common options range between 30 or 60 frames per second or FPS. The higher the FPS number, the better the footage will be since it directly translates into the overall "smoothness" of the video capture. Finally, consider shopping well-established brands when looking for webcams as these will have the best support across systems and typically fall into the $75-150 price range. Getting a good HD webcam will provide reliable operation and work-from-home benefits for many years to come.
A docking station is one of the best tools for team members working remotely using a laptop. You can substantially transform your home office experience by using a docking station via a single cable or even an older snap-in-place unit to connect to full-size monitors. Going from a single smaller 13″ – 15.6″ laptop screen to two or even three full-size monitors is a significant boost in user experience and productivity.
As laptops have become thinner and more portable, they come with fewer ports than they used to. Docking stations can provide additional USB ports, full-size ethernet networking ports, and more, allowing for connections to accessories such as printers, webcams, chargers, and more at a moment's notice, saving time. Plugging the dock into a physical ethernet networking cable will also ensure low latency video calling and downloads for a better work experience. Because you can connect to docking stations with a single cable and easily unplug, your laptop remains fully portable for use at home or in the office.
There are a variety of docking stations on the market, made by many laptop manufacturers and 3rd parties. Price can range quite a bit depending on the feature set and capabilities. It is essential to ensure compatibility with your specific laptop model. When shopping for a good solution, we recommend a USB-C-based dock to communicate and charge newer laptops as this is the best option for most home office uses. There are also thunderbolt docking stations for more advanced computers and applications. Either way, having a dock will substantially improve the work-from-home experience.
Sound Bar or Computer Speakers
Another solution you can purchase that can substantially enhance your home office is speakers for your desktop or laptop. This small addition can really level up your experience at home. Speakers can help your meetings or training videos have better audio and improve the quality of your IP Phone system calls. If you choose to do so, you can even play background music while working to make for a more relaxing office experience. The list of uses is infinite!
Larger desk speakers plug into the wall and use an auxiliary connection; however, even a bluetooth or USB-powered sound bar will provide ample audio volume for more compact home working spaces. Since desktop workstations do not come with built-in speakers and monitors are also increasingly omitting speakers, dedicated sound devices are becoming critical to success at home, so make sure that you have a set of speakers on your shopping list! You may even already have a device sitting around the house that can be connected and used as a speaker.
The last item to add to your home office wish list is battery backup. Power outages can occur at any time taking your internet connection offline, unexpectedly powering down your PC, or even causing damage if a power surge occurs. Being prepared for a quick flicker or prolonged downtime is key to staying productive in your home office. You can use a UPS battery backup for desktops specifically to plug in a computer, monitors, desk phone at home, and more. You can even connect your internet modem and Wi-Fi access point to keep them online.
These UPS battery packs are quite affordable, ranging from $100 – $250 and providing selectable power ranges. More expensive models have larger batteries which can help power gear for longer. Higher-end units also come with monitoring software and even display screens indicating how long the unit will be operational. Having office electronics connected to a UPS will ensure that the expensive equipment used every day is protected since these units also serve as surge protectors. They will sacrifice themselves and internal fuses instead of letting an overcurrent event fry sensitive electronics plugged into them. As an insurance policy at home, it is well worth putting one on your home office list if you spend any time working beyond the office walls.
If some or all of these tools would be helpful to your or your team members' home office setup, connect with the IT experts at Kite Technology Group. We can help your business leverage technology solutions like those mentioned above to create a more productive and effective work-from-home experience. Our team can evaluate your needs and help your business implement powerful remote work strategies that enhance team collaboration and drive business success. Contact us today to learn more!