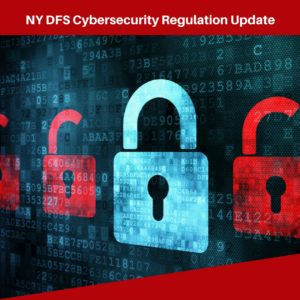 The saga continues!  IIABNY recently learned that NY is requiring that all license holders file their exemption status on the Department's website.  This means that each individual that has a producer license must go to the NY DFS portal, and submit their exemption status by September 27th.  You can read more about IIABNY's efforts HERE.
Thankfully, the process is quick and painless, once you know where to go.  To help your folks stay compliant, we've put together the following instructions:
Browse to the NY DFS website: https://myportal.dfs.ny.gov/web/cybersecurity/
Click "Create Account", and put in your name and email address. Then, click "Save."  DFS will email you a temporary password.

The link in the email that you receive will not work, so please note the password and refer back to these instructions for the proper website link. Once you enter your credentials, you'll be prompted to enter a permanent password.
Once logged in, you'll click the "Submit Cybersecurity Notice of Exemption" button on the left.

Type your Entity ID in the field. Your Entity ID is the same as your license number.  The rest will prefill for you.  Click "Next"

For your Exemption Reason, you'll want to choose 500.19(b). 19(b) is an exemption for employees and agents that work under the Cybersecurity Program of another Covered Entity.  Click "Next"

Enter in your personal contact details and check the box to swear/affirm. Click "Submit".

Once submitted, you should receive a confirmation via email.  Please forward a copy to your licensing manager, and keep a copy for your own records.