Highlights from the 2023 Accelerate, Powered by NetVU Conference

I have always loved attending the annual NetVU Conferences for Vertafore users, and over the years, I've only missed a handful. A few years ago, the conference underwent a rebranding, emerging as the new and improved Accelerate, Powered by NetVU. This revitalized event brings together industry professionals for a dynamic experience that includes cutting-edge education, exclusive insights into emerging technology, and valuable opportunities to learn from fellow Vertafore users. The conference is a fantastic way for Vertafore users to stay informed, inspired, and connected within the ever-evolving insurance landscape.
This year's conference took place in Austin, Texas, which proved to be an excellent host city. Though, I wonder who I could have talked to about turning down the humidity! Nevertheless, getting there was easy, and the venue itself was conveniently located near many outstanding restaurants within walking distance.
But let's get to the heart of the matter – the event itself was outstanding! From the informative educational sessions to the engaging exhibit hall and the memorable evening events, every aspect was well planned and flawlessly executed.
Now, let's dive into what I thought were the highlights from this year's Accelerate, Powered by NetVU!
Accelerate, Powered by NetVU Conference Highlights
Emergence of "AgencyOne"
In prior years, we heard about "Titan Technology" from Vertaforians; however, this year that phrase was absent. It's seemingly been replaced by "Agency One" which refers to the overall Vertafore universe.
A conscious effort is underway to standardize the overall Vertafore user experience. One notable example of this is the recent revamping of the color scheme in AMS360. If your agency hasn't yet seen their system upgraded, you can expect to see a fresh standard palette of vibrant orange and sleek gray (see example below). These appealing colors will gradually permeate all Vertafore systems over the next few months, ensuring a standard look across the Vertafore spectrum (PL Rater, Reference Connect, Sircom etc).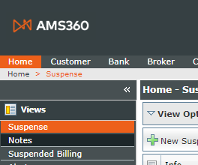 Another integral aspect of this initiative involves an intuitive user interface, seamlessly connected workflows, and a comprehensive 360-degree view of the customer. We eagerly await further details, as it was promised that more information would be shared later this summer. This update will certainly improve the user experience while providing a holistic view of customers, paving the way for enhanced efficiency.
Goodbye WinForms
During a follow-up "What's New in AMS360" session, the presenter revealed an ambitious drive to update every entry point within AMS360, transitioning from the current WinForm format to a sleek HTML interface, akin to the existing Customer entry/edit feature. I asked whether this transformation would take months or a few short years. The answer was within a few years—while I'd rather have a firm target, I'll take that commitment for the moment.
When this happens, the need for the "Client" software will become obsolete, enabling AMS360 to seamlessly operate across any browser and operating system. Yes, you heard it right, Apple fans will no longer be required to run Windows parallel software.
This announcement was tremendously positive news!
The RevTech sessions
This year's conference featured an impressive lineup of 14 sessions dedicated to cutting-edge technologies for agencies. These sessions delved into key focus areas that included:
Developing Your Agency's Technology Strategy
Effectively Leveraging Microsoft 365
Data, Integrations, and Automation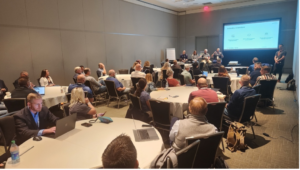 All of these sessions were engaging panel discussions featuring industry leaders. Notably, KiteTech team members were prominently represented in most of the sessions. The RevTech sessions were well attended with many being at or near capacity, so they are sure to be included in future conferences.
I personally had the privilege of participating in two sessions, where I shared my thoughts and insights on these topics:
Maximize Your Agency's Performance with Apps and Integrations
Data Analytics and Visualization: A Better Understanding of Your Data
These sessions brought together a diverse panel of experts, primarily comprising developers of third-party integrations. As the outlier on the panel, my focus was to shed light on how these integrations can better serve agencies in visualizing their data and streamlining workflows. As well as presenting my fantasies about what they should do and the value to the agency side of the industry.
I would like to have an intuitive dashboard that provides real-time production information, rather than having to wait for hours after running a report and applying pivots or macros to get outdated financial production data. Additionally, I would like to see dashboards that proactively highlight important information, eliminating the need for us to analyze reports to find what we are looking for. This applies not only to financial reporting but also to account management. For instance, it would be beneficial to have a renewals dashboard that displays the progress of each renewal and alerts us to any delays or issues with the schedule.
We can achieve these goals (and much more) with the application of rules in our dashboarding. I have witnessed firsthand the power of such dashboards and firmly believe that this level of functionality is not only possible but essential for agencies to thrive in today's data-driven landscape.
API's
I attended an engaging RevTech panel session where a Vertafore representative shared exciting news.
She said that there is a drive underway to get every data point available in the API! Once this happens the gates will be open to do almost anything via an API.
For those who may not be familiar with the term, API stands for "Application Programming Interface." What it essentially does is facilitate interaction between two programs, enabling seamless communication and data exchange. API's allow programs to pull (get) or post data. However, currently the API can't post data to every field.
Here's one example: Claims data – we all know that some carriers download claims into AM360. For those who don't we would have to manually enter the status, payments, and reserve information. Doing this manually is a herculean task!
But if the data was there, we would be better able to help manage client and agency loss ratio. Just seeing the numbers and comparing those to the date of loss would allow us to perhaps get reserves reduced before renewals were run…and get better rates, via credits, for our clients.
On the Workers Comp side, we can then use this data to forecast Ex Mod changes. If we contract with a Mod forecasting provider, we can use their API to automate this process as well. No more manual checking, the exchange of information can be automated.
This would also allow us to manage our contingencies and carrier relationships!
Now there are several Robotic Process Automations (RPA's) that can be engaged to go to carriers and capture claim information…BUT, in the current API we can't add/edit claims data in AMS360, we can only report on that.
Being able to get this information into AMS360 would give agencies:
Giving them the ability to have true and accurate loss data in one place, AMS360, at all times.
Freeing up team members to more valuable tasks, rather than updating claims info.
Allowing them to use PBI tools to let them know, across the system, when claims hit certain dollar values or when they hit certain time milestones.
I for one, can't wait for more (well actually all) data fields to be open to the API! It will be a game changer.
The Exhibit Hall
The exhibit hall at this year's Accelerate conference was a bustling hub of innovation and industry expertise with a good bit of fun sprinkled in. Spanning across a vast space, it was filled with a diverse array of vendors representing cutting-edge technologies, integrations, and other solutions. It provided a unique opportunity for attendees to engage directly with the vendors, explore their offerings, and gain valuable insights into the latest advancements in the insurance landscape. The vendors' passion and dedication were obvious as they eagerly shared their knowledge, answered questions, and fostered meaningful connections with attendees. The entire KiteTech team had a great time engaging with attendees eager to learn more about how our IT Services and AMS360 Consulting can help their agencies more effectively! Check out the KiteTech team and booth below.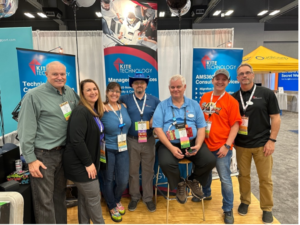 The Keynote Address
The keynote address this year was presented by best-selling author Blake Morgan, a customer experience futurist passionate about helping organizations grow their businesses by delivering an exceptional customer experience. Blake's presentation provided valuable insights into the evolving world of customer experience and its significance for the insurance industry. Her engaging storytelling and thought-provoking ideas inspired attendees to reimagine their customer interactions.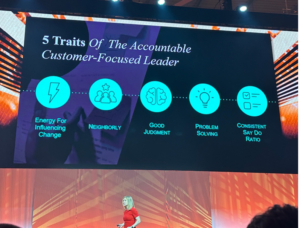 Blake concluded her compelling keynote address by unveiling four indispensable strategies that empower organizations to prioritize customer experience by making it a DECISION, rather than a discipline or a division:
W – Walk a mile in their shoes
A – Ask for the truth
Y – Yes to accountability
S – Small improvements every day
Implementing these strategies can significantly enhance customer experience and foster a culture of continuous improvement and customer-centric decision-making.
Conclusion
Accelerate, Powered by NetVU, was a fantastic conference. With Vertafore's focus on innovation, standardization, and expanded capabilities, the conference fueled lots of excitement for the advancements that are coming our way.
Anticipation is already building for next year's Accelerate, Powered by NetVU conference, set to take place in the vibrant city of New Orleans. As the host city, New Orleans promises to provide a backdrop of rich culture and a dynamic atmosphere. Attendees can expect a compelling lineup of sessions, networking opportunities and unforgettable evening events. Stay tuned for more information and be sure to register early for the best rates!
If you would like to understand how to leverage some of the features we discussed in this article, like APIs and reporting, or would like to learn more about Kite Technology's AMS360 Consulting Services, please contact us to schedule a conversation. We'd love the opportunity to learn more about your agency and help you get the most from your AMS360 investment.