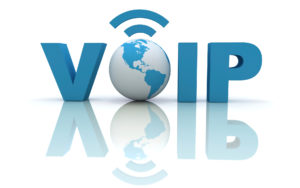 Considering a New Phone System for Your Office?
Most people would agree that phones are still one of the most important tools in today's office environment. Whether they are mostly used for internal communication or to connect with clients, having a good phone system is key to any business.
Up to this point, there was really only one type of phone system available for the office environment: The PBX System (Private Branch Exchange). This is a phone system that has a large switch box in a back room near the server and uses good old-fashioned phone lines to connect with the outside world. This is also referred to as an On-Premise PBX System.
This type of PBX System is a telephone system within an enterprise that switches calls between enterprise users on local lines while allowing all users to share a certain number of external phone lines.
The new choice is called VOIP (Voice over Internet Protocol).  This is a category of hardware and software that enables users to use the Internet as the transmission medium for telephone calls by sending voice data in packets using IP rather than by traditional local phone lines.  This is also referred to as a Hosted PBX System.
Here are some things to consider:
On Premise PBX:
Higher initial cost and set-up cost
Potentially higher maintenance costs
Lower monthly cost after expenses are covered
Ability to SIP trunk to get lower cost calls
On-premise IP-PBX provider will qualify network
On-premise IP-PBX provider will install and program IP-PBX
On-premise IP-PBX will train staff on feature use and "best practices
VOIP System:
Lower initial equipment cost and set-up cost
Network qualification is performed by the customer. Any upgrades are at the customer's expense
All IP-VOIP feature programming is done by the customer
No maintenance costs of the IP-VOIP, but all on-premise and remote phones and network devices are the responsibility of the customer
Staff training is the responsibility of the customer or hired service.
Low monthly service cost
Easy to add extra lines
Upgrades and new features are included
Extended features, like conferencing, may come with additional costs
These are just some of the factors that should be considered before making a decision to upgrade to a VOIP phone system.  One important piece of advice that I would like to offer is that before making a decision, be sure to consult with your IT company or department.  If not configured properly, adding a VOIP System can impact your network's performance resulting in very poor phone performance and slow server/workstation performance.  It is best to be proactive and plan ahead to make sure that the transition to the VOIP system goes smoothly.  If you have any questions or would like more information, please don't hesitate to contact us.
We'll Take IT From Here.